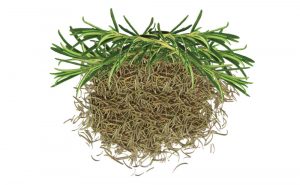 PRODUCT DESCRIPTION
Rosmarinus officinalis is a woody, perennial herb with fragrant, evergreen, needle-like leaves. It is native to the Mediterranean region. It is a member of the mint family Lamiaceae, which also includes many other herbs.
The name "rosemary" derives from the Latin name rosmarinus, which is from "dew" (ros) and "sea" (marinus), or "dew of the sea" because in many locations it needs no other water than the humidity carried by the sea breeze to live. The plant has also sometimes been referred to as Anthos, from the ancient Greek word ἄνθος, simply meaning "flower".
The fresh and dried leaves are used frequently in traditional Mediterranean cuisine; they have a bitter, astringent taste and are highly aromatic, which complements a wide variety of foods. A tisane can also be made from them. When burned, they give off a distinct mustard smell, as well as a smell similar to that of burning wood, which can be used to flavor foods while barbecuing.
Rosemary is high in iron, calcium, and vitamin B6, 317 mg, 6.65 mg and 0.336 mg per 100 g, respecively.
Rosemary extract has been shown to improve the shelf life and heat stability of omega 3-rich oils, which are prone to going rancid.
QUALITY CHARACTERISTICS
Rosemary Whole
Rosemary Cut
Rosemary Ground
SHIPMENT QUANTITIES
Max. 7 mton in 20′DC – Dry Van
Max. 14 mton in 40'DV – Dry Van
Max. 16 mton in 40'HC – High Cube
PHYSICAL PROPERTIES

Rosemary Whole

Rosemary Cut

Rosemary Ground

Physical Analysis

Foreign Material ( Max. 1% )

Foreign Material ( Max. 1% )

Below 500 micron (Min. 95%)

Moisture

Max. 10%

Max. 10%

Max. 10%

Volantile Oil

Min. 1%

Min. 1%

Min. 1%

Ash

Max. 10%

Max. 10%

Max. 10%

Acid Insolable Ash

Max. 1%

Max. 2%

Max. 2%
NUTRITION FACTS ( In 100 g )

Energy

131 Kcal.

Thiamin

0,036 mg

Calcium

317 mg

Protein

3,31 g

Riboflavin

0,152 mg

Potassium

668 mg

Total Fat

5,86 g

Vitamin A

2924 IU

Magnesium

91 mg

Carbon Hydrate

20,70 g

Vitamin C

21,8 mg

Iron

6,65 mg

Dietary Fiber

14,10 g

Niacin

0,912 mg

Sodium

26 mg
Product Description
Country of Origin : Turkey
Prices : By request
Packaging : 10 kg in Kraft Paper Bag. Packaging can be changed according to the customer demand
Appearance : Characteristic
Odor : No foreign or off-odor
Flavor : Good Characteristic and Aromatic Lingering Flavour
Additive / Preservative : None
Labeling : Every bag is labeled with products name, weight, produce date, shelf life and customer code
Storage : The product should be stored in a cool, clean, dry place and away from direct sunlight.
Shelf Life : 12 months from date of production when stored in the conditions noted above