DRIED BAY LEAVES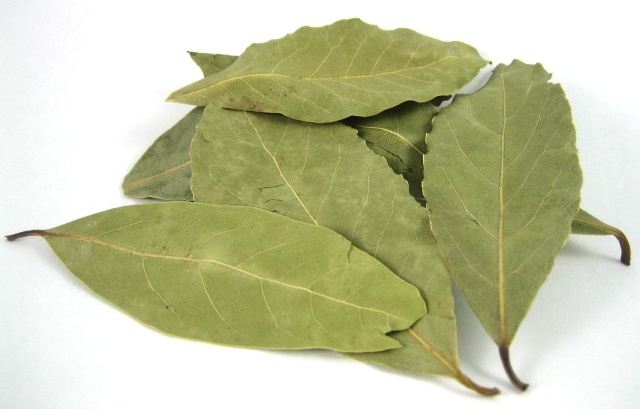 PRODUCT DESCRIPTION
The laurel leaves also known as Bay leaves (Laurus nobilis). Laurel or bay tree is an aromatic evergreen tree or large shrub reaching 10 – 18 m. tall. It's originated in Asia Minor but later on it spread to the Mediterranean and other countries with suitable climates.
Today, bay leaves are used for their flavor in cooking and it's one of the most sought-after culinary spice. Also known as sweet laurel, bay leaves are used as flavoring and seasoning in soups, meat, stews, fish, sauces, pickles and in confectioneries. The bay leaves are usually dried and are used whole, crumbled or ground. These leaves possess aromatic, stimulant and narcotic properties. The essential oil extracted from the leaves is also used as spice and food flavoring agent and has extensive application in traditional medicines of different countries. We are proud suppliers and exporters of bay leaves in both the domestic and international market.
Some evidence from medical literature support Laurel leaves having , analgesic, anti-inflammatory and antiepileptic uses. In the fruits of laurel leaves there are essential oils and fatty oils present.
The laurel tree has been grown in nature since the beginning of recorded history. In some countries the laurel wreath is used as a symbol of the master's degree. The wreath is given to young masters in the graduation ceremony of the university.
The Hand Selection is the highest level in the production of this product and perfect raw Laurel leaves are not enough for this unique production, also extremely high experienced selecting team is the indispensable key of this puzzle. Because of unfixed classification on this product, the production goes with the target specification of the buyer.
The excellent quality Turkish Laurel leaves (bay leaves) are supplied in pressed bales or in cartons boxes as customers' request.
QUALITY CHARACTERISTICS

SHIPMENT QUANTITIES

Hand Selected (HS) Quality

Hand Semi Selected Quality

Semi Selected Quality

Standard Selected Quality

FAQ ( Fair Average ) Quality< /li>

Cut and Cleaned Quality

Fine Powder Quality

Max. 8 mton in 20′DC – Dry Van

Max. 16 mton in 40'DV – Dry Van

Max. 18 mton in 40'HC – High Cube
PHYSICAL PROPERTIES

GRADES

Whole Leaves

Slightly Damaged Leaves

Broken Leaves

Brown Leaves, Holes & Spots

Calibration

Branch Stems

Appearance

Packaging

FAQ

Min. 25%

Max. 55%

Max. 15%

Max. 5%

Natural Green & Brown

50 Kgs
Pressed Bales

Standard Selected

Min. 30%

Max. 50%

Max. 15%

Max. 5%

Natural Green & Brown

25/50 Kgs
Pressed Bales

Semi Selected

Min. 45%

Max. 40%

Max. 5%

Max. 5%

As per request

Max. 3%

Natural Green

10/15/20 Kgs
Carton Boxes

Hand Semi Selected

Min. 60%

Max. 30%

Max. 5%

Max. 5%

As per request

Max. 1%

Natural Green

10/15/20 Kgs
Carton Boxes

Hand Selected

Min. 95%

Max. 4%

Max. 1%

Max. 3%

Max. 0,5%

Natural Green

10/20 Kgs
Carton Boxes

Cut and Cleaned

100%

2 – 4 mm / 3,5 mm

Max. 5%

Green

10 Kgs
Craft Bags

Fine Powder

60 Mesh

Max. 1%

Green

10/20 Kgs
Craft Bags
CHEMICAL PROPERTIES

Moisture

Max. 10%

Volatile Oil

Min. 1%

Total Ash

Max. 5%

Acid Insoluble Ash (AIA)

Max. 1%

Insoluble Ash in HCL

Max. 2%
NUTRITION FACTS ( In 1 g )

Energy

3,85 cal.

Calcium

8,34 mg

Potassium

5,29 mg

Protein

76,1 mg

Thiamin

1 mg

Magnesium

1,20 mg

Total Fat

83,6 mg

Riboflavin

4,23 mg

Iron

0,43 mg

Carbon Hydrate

754 mg

Vitamin A

61 IU

Sodium

0,23 mg

Dietary Fiber

263 mg

Vitamin C

0,465 mg

Phosphorous

1,13 mg
Product Description
Country of Origin : Turkey
Prices : By request
Packaging : 25 / 50 kg in Pressed Bales or 10 /15/ 20 kg net in Cartons Boxes. Packaging can be changed according to the customer demand
Appearance : Characteristic
Dried Condition : Machine dried
Odor : No foreign or off-odor
Flavor  : Good Characteristic
Additive/ Preservative : None
Insect : None dead or alive
Labeling : Every bag is labeled with products name, weight, produce date, shelf life and customer code
Storage : The product should be stored in a cool, clean, dry place and away from direct sunlight
Shelf Life : 12 months from date of production when stored in the conditions noted above